Wild & Friend is an environmental education project for the dissemination of knowledge and the promotion of the care and conservation of flora and wildlife.
This project proposes the use of the CEDEI Onlus methodology for its implementation, both with boys and girls and with teachers in schools.
---
Do you want to know more about our project?
---
Educational project for the promotion of biodiversity.
La corporacion CEDEI presents the educational project for the promotion of biodiversity 2019/2020. The project has direct participants: the children
Read more.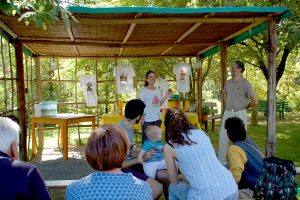 A day with Wild & Friend
The first installation of the educational posters "Wild & Friend" has been successfully completed. Thanks to Le Carbonaie Agricampeggio for
Read more.
In Tuscany: twelve friends of the forest
Inauguration of the educational path "Wild and Friend" in the Agricampeggio le Carbonaie. An environmental education project, for the dissemination
Read more.